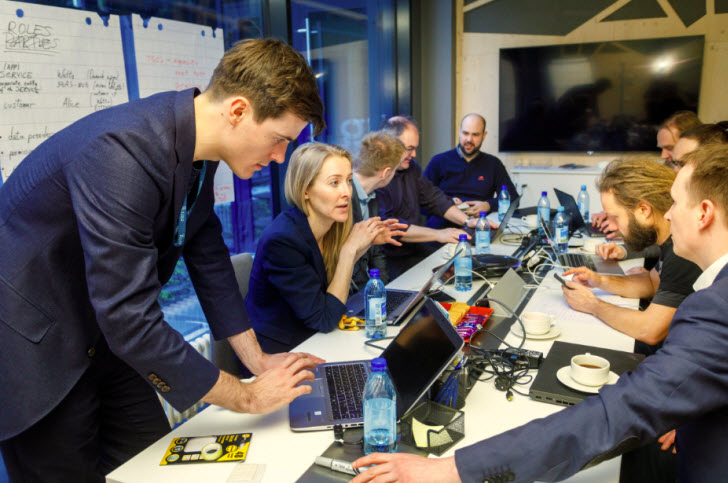 Elering and Energinet in workshop in Tallinn. Photo: Elering
Electricity consumers should be able to swipe their way to the green transition
Published 14.3.2018 11.00
One of the keys to an effective green transition is flexible consumption. Electricity consumers should be able to sell power from the battery in their electric vehicle to the grid, or wait to run their heat pump until it is most cost-effective. But this will require data and brand new business models. Danish Energinet.dk and Estonian Elering are leading the way. A joint pilot project will test new technology that allows consumers to simply and securely give electricity market players access to their consumption data.
Elering and Energinet will now address one of the key digital challenges underlying an effective green transition for the electricity system – a simple and secure way for consumers to grant access to their electricity consumption data. 
Electricity consumers should be able to sell power from the battery in their electric vehicle – when it is parked in the garage and the electricity grid needs a few minutes of quick production to stay in balance. Or be able to easily pass on data to energy companies with expertise in pooling consumption, for example from many heat pumps, and adapting it to the hours when prices are low or wind turbines are spinning fastest.
"Consumers should be at the centre of the future energy system, and it has to be just as easy to grant access to your data as it is to swipe your tablet. This is complicated at present, preventing consumers and electricity market players from enjoying the gains that are already possible.  It's also hindering companies ready to offer future business models and innovative solutions that can pool flexible consumption and production from thousands of electricity consumers and autoproducers. And it's making the green transition less effective," says Søren Dupont Kristensen, Senior Vice President, Electricity System Operator at Energinet.
An active market which exploits consumer flexibility can reduce the need for society to invest in new green energy sources, back-up capacity or expansion of the electricity grid. For example, when consumers lower their electricity consumption at very high prices, or raise it when there is surplus wind power in the system. Even if just a small percentage of consumption becomes flexible, it can have great value.
Simple and secure access to data is something many Danish electricity suppliers seek. Prior to the Danish-Estonian pilot project, Energinet completed a collaboration project with Danish electricity suppliers last year. The project examined what the players want and need.
Elering and Energinet lead the way
 
Estonia and Denmark are two of the few countries in the EU to have a datahub which collects all electricity consumption information for private consumers.
"It makes a lot of sense to look at the challenges jointly with the Estonians, who are well advanced in the use of digital solutions in government administration. Secure handling of electricity consumer data is central to the solution, and we are currently not aware of any other countries working with data solutions that make it possible for consumers to disclose data to energy service companies and the like. Customers own their own data, and should be able to choose to whom they grant access," says Søren Dupont Kristensen.
The aim is a system which ensures that once the consumers have definitively identified themselves using their passport, driving licence, NemID, etc., they can directly control who has access to data and how. The system does not have to store the information from the passport or driving licence, but simply remember that the person has identified themselves using approved documentation. The technology is similar to blockchain, and ensures that communication between systems and plants takes place simply and securely.
Elering and Energinet will be testing a secure form of identification for consumers or devices, such as an electric vehicle. This is achieved without having to store or transmit sensitive personal data. The two TSOs are right now in Tallinn testing a 'distributed ledger' called Sovrin. If the test is successful, the aim is to initiate full-scale implementation of the technology.
"The goal is an open source solution that everyone can use. Data and digitisation are vital to success in the future energy system. Energinet.dk and Elering are therefore laying down the technical specifications, to allow anyone who wants to use it to develop similar solutions and use it as a link between their own solutions and consumers," says Søren Dupont Kristensen.