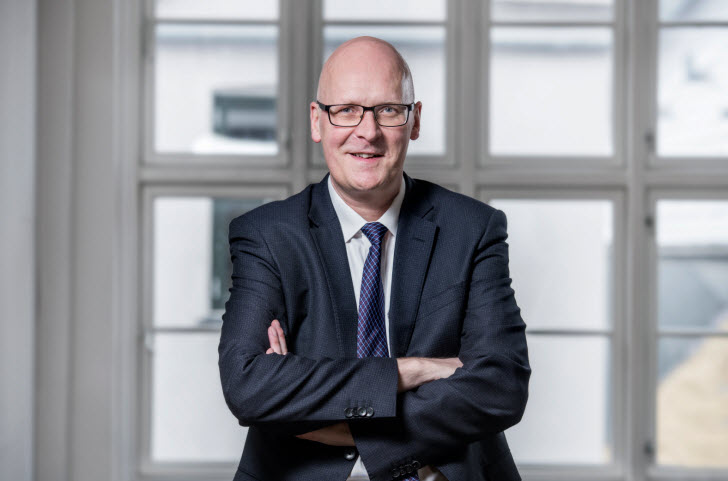 Permanent Secretary Thomas Egebo appointed as Energinet's new President and CEO
Published 16.3.2018 01.00
Energinet's Supervisory Board has appointed Thomas Egebo as new President and CEO of Energinet. Thomas Egebo replaces Peder Østermark Andreasen, who has decided to retire after 13 years as President and CEO.
Thomas Egebo comes from a position as Permanent Secretary in the Danish Ministry of Energy, Utilities and Climate.

Lars Barfoed, Chairman of the Supervisory Board, says:
"After a thorough search process, a unanimous Supervisory Board has decided to appoint Thomas Egebo as President and CEO in Energinet. With his background as Permanent Secretary in the Ministry of Energy, Utilities and Climate, Thomas Egebo has a very strong professional profile for the job in Energinet. He also has the extensive experience as senior manager that the job requires. I'm therefore highly confident that Thomas can shoulder the responsibility as President and CEO in Energinet.
It's essential that Energinet's CEO has both the competence and the knowledge required to manage a large and complex company, while also having the necessary social and political understanding of Energinet's special role in the energy sector and Danish society. The President and CEO is responsible, together with the rest of the management and the employees, for ensuring security of supply and continuously optimising the efficiency of the day-to-day operations. This must go hand in hand with the great responsibility that Energinet has for contributing to the long-term development of the energy sector towards an increasing share of renewable energy as well as generally being an active participant in the innovation of the energy sector, based on digitalisation, new technologies and internationalisation."

And Lars Barfoed continues:
"Energinet has a unique culture, rooted in cooperation and strong competencies. It has been important to me that the new CEO has an understanding of this and can carry it forward. I'm sure that Thomas can and wants to do so. Together with the rest of the Supervisory Board, I'm looking forward to working with Thomas Egebo."

Thomas Egebo is looking forward to the job as President and CEO and says:
"It'll be fantastic to head Energinet. Energinet is one of the most important and exciting companies in Denmark. Energinet manages and expands socially critical energy infrastructure amounting to billions, ensures high security of supply and well-functioning electricity and gas markets and supports an efficient transition to clean energy. These are highly meaningful and motivational tasks, which I'm looking forward to heading."

Thomas Egebo will be the chief executive officer of Energinet and Energinet's subsidiaries, including Dansk Gas Distribution and Gas Storage Denmark. The Group has a total of approximately 1,200 employees. Thomas Egebo will take up the position as President and CEO no later than on 1 May 2018.