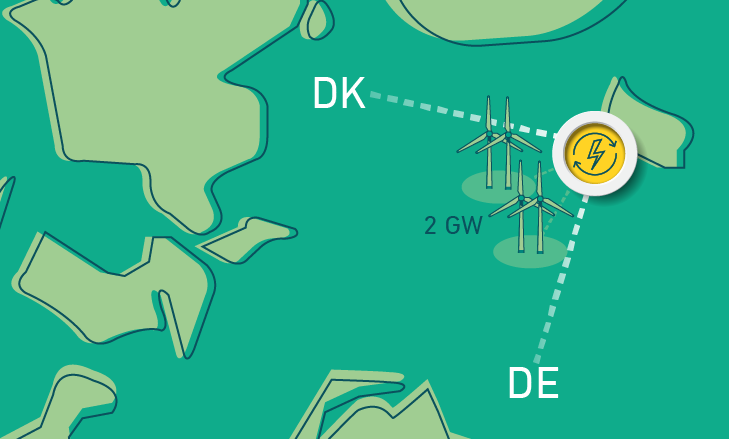 A Danish-German breakthrough for Bornholm as a future energy island
Published 21.1.2021 08.47
German 50Hertz and Energinet have entered into an agreement to carry out the studies which, before the end of the year, are to identify whether it is possible and advantageous to construct an electric cable connection between the two countries via Bornholm as a future energy island.
The agreement between German 50Hertz and Energinet is the first breakthrough for connecting the two Danish energy islands to other countries. Interconnectors between neighbouring countries are vital to the energy islands being a good idea, both financially and for the green transition.
With the agreement, Bornholm as an energy island is not only based on Danish and international political agreements but has also become a specific and cross-border cooperation on the energy island between TSOs of two countries.
From national to transnational expansion of offshore wind power
-If we are to succeed in the massive expansion of offshore wind, which is necessary in the coming years to fulfil the Paris climate agreement, it is absolutely vital that a significant change of gear is now taking place. A change of gears from national expansion with individual wind farms to energy islands, which in essence are and only can be transnational projects.
Says Thomas Egebo, CEO of Energinet, and adds:
-Therefore, I am very happy to put my signature on the agreement with 50Hertz.
The agreement is the first specific cooperation agreement between two TSOs related to the construction of a specific energy island that has been politically decided upon in advance.
On the occasion of signing of the mutual Letter of Intent (LoI), 50Hertz CEO Stefan Kapferer commented:
-For Europe's energy future, the seas that surround us are of central importance. Together with our reliable partner Energinet, we want to launch a new innovative project for the energy transition and climate protection. With this project, we are not only making technological progress, but must also break new regulatory ground for the transnational use and remuneration of the generated power together with policy-makers and the offshore wind industry.
Time pressure for the world's first two energy islands
A large majority of the Danish Parliament, Folketinget, has made an ambitious agreement on placing two energy islands in Danish waters by 2030. One in the North Sea, which will be an artificial island construction or platforms, and one in the Baltic Sea with Bornholm as a central hub for collecting, converting and forwarding power from offshore wind farms to Denmark and other countries, now perhaps Germany.
Thus, there is less than 10 years before the deadline for construction projects with large and complex electricity transmission systems, island constructions or offshore platforms, interconnectors, and offshore wind farms in GW sizes. Altogether, it will – with distance – become the largest infrastructure project in Danish history.
-No doubt, we will be very busy to achieve everything before 2030, says Thomas Egebo, adding: However, it is also necessary that the speed and pace of expansion be markedly increased if we in Europe are to meet our target of 60 GW offshore wind in 2030 and the entire 300 GW in 2050. It is therefore both gratifying and necessary that we already now have made the first specific cooperation agreement on preparations for connecting the future energy island in the Baltic Sea to several countries.
In November 2020, the Danish Minister for Climate, energy and utilities, Dan Jørgensen, gave Energinet the task to manage the preliminary studies and prepare for international connections to the two energy islands. In December 2020, Denmark, Germany, and the Netherlands joined political declarations on cooperation concerning energy islands and the expansion of offshore wind power in the North Sea and the Baltic Sea.
---
With the agreement, 50Hertz and Energinet agree to:
Look into the

possibilities for the development of a

so-called

hybrid interconnector

via Bornholm as a future energy island. A hybrid interconnector can collect wind power from offshore wind farms and transmit electricity both ways between the two countries' electricity grids.


Keep the collaboration open for potential other partners. In the long term, the energy island in the Baltic Sea may become a link between even more countries, connect with the energy markets in the Baltic States and contribute to socioeconomic welfare in Europe.


Dedicate themselves to meeting Danish, German, and European targets for climate and renewable energy. Including the Danish target of 100% renewable energy in the electricity grid in 2030 as well as 50 Hertz's goal of getting the electricity demand in its grid area covered 100% by renewable generation by 2032.



Building collaboration on the good experience the two partners already have with the development and realization of the innovative project Kriegers Flak Combined Grid Solution, which was commissioned in 2020.
---
Energy Islands in Denmark
An energy island is a hub for large amounts of energy from offshore wind power. Energy from the energy island will be converted and forwarded to several countries.


The island of Baltic Sea is Bornholm. With associated offshore wind farms, it must deliver 2 GW in 2030.


The energy island in the North Sea will be an artificial island construction or platforms and must, with associated offshore wind farms, deliver 3 GW in 2030 and up to 10 GW thereafter.



The two energy islands must be established in 2030, where they must deliver 5 GW of power, enough for the average annual electricity consumption in 5 million households.




---