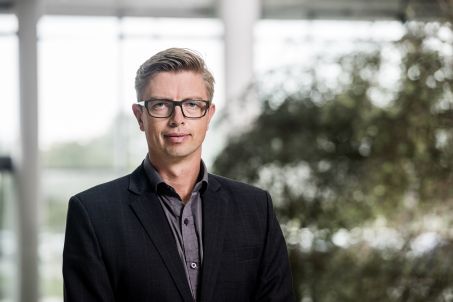 Martin Lervad Lundø, CEO Energinet DataHub
Energinet shares recipe for new DataHub with the world
Published 22.4.2021 09.20
Data is crucial in the green transition. As such, Energinet is now open sourcing the blueprints for the new danish datahub on GitHub, with the hope, that IT-experts from all over the world will contribute in developing the Green Energy Hub (the danish DataHub) and that other countries might create datahubs of their own – which would create a strong foundation for innovation and a faster, more efficient and safe green transition.
The blueprints for Energinets new datahub "Green Energy Hub" is now available on GitHub, an open source platform. As such, the codes which make up the new datahub are accessible to all. CEO of Energinet DataHub A/S, Martin Lervad Lundø hopes that contributions from all over the world might help develop and finetune the system and that others will be able to implement a datahub with ease.
"We know that data is essential in finding the clever solutions that are going to accelerate the green transition, not just in Denmark but globally. That is why it is in all our interests that as many as possible implement a technology that might enable this. In Denmark, we have been developing the DataHub for years, and now we have a technology which enables just that. By sharing the "recipe", we hope to inspire all of Europe – maybe even the entire world", says Martin Lervad Lundø
The recipe is more than just the schematics for creating a hub to collect data on consumption or production in a safe and valid way. It is also schematics for a hub, that can share this data in a safe way which will not compromise the consumers.
The release of the cloud native Green Energy Hub on GitHub was presented on LF Energy Foundations "Spring Summit". LF Energy Foundation is an organization working to create a green collaborative community in the power systems sector by working with open sourcing the solutions.
By releasing this in open source, Energinet is setting a new course in development projects and IT operations. The fundamental belief behind this step is, that it is much smarter to solve the big common problems together. It makes a difference across both borders and sectors.
Data is the foundation for innovation

Being able to trace the origins of energy is essential all over the world, if we are to utilize the energy properly. Data is also the basis for new services, products and business models. Wether it is green electricity subscriptions or using the charging of electric cars for flexibility in the grid, or maybe inventing something completely new – data is key.
"We know the interest in datahubs is great all over Europe, and now we have shared the recipe for a datahub which allows you to both gather and share data in a safe way. We hope this might give the development of green initiatives a push worldwide", says Martin Lervad Lundø.