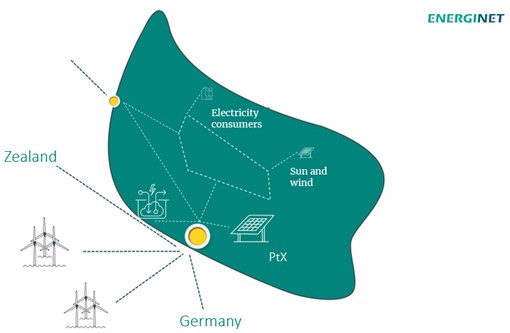 Energinet is working to ensure that Bornholm can gain access to the Energy Island's power cables
Published 1.3.2022 09.00
Energinet is now ready to design the future high-voltage substation so the power grid on Bornholm can be connected to the new electricity connections that will be established between Bornholm Energy Island and its offshore wind farms.
"Energinet has had a good, close dialogue with Bornholm Municipality. We understand the residents' wish to reap the benefits that Bornholm can gain from the connection in terms of consumption and production of green power on the island. So I'm very pleased that we can now work towards connecting the island's power grid to the Energy Island's electricity connections," concludes Hanne Storm Edlefsen, Vice President for Energy Islands in Energinet. 
Socioeconomic savings
The initial conclusion is based on a preliminary analysis. Firstly, the analysis shows that it will probably be technically possible to connect the Energy Island's power cables to Bornholm's power grid without compromising stability or security of supply in the overall power grid on Bornholm or elsewhere. It has also been assessed that this can be done without compromising on the overall project's schedule.
Secondly, the analysis shows that connecting Bornholm's power grid to the Energy Island's future power connections will result in socioeconomic savings.
Bornholm is currently connected to the power grid on Zealand via a submarine cable to Sweden. To maintain security of supply, Energinet pays for a power station on Bornholm to be ready to generate electricity in the event of damage or faults in the cable to Sweden. This cost can be saved if Bornholm's power grid is connected to the Energy Island's cables. This is where the socioeconomic savings would come from.
Technological innovation
Based on the analysis, Energinet will now start to develop the technological solutions, which will be innovative and by no means standard, off-the-shelf products.
"Connecting a large DC installation with a very high-voltage level to a small local AC power grid with a relatively low voltage level has never been done before. So we need to start a dialogue with market players and researchers as soon as possible on how to best solve the task," says Kim Søgaard Mikkelsen, Energinet's project manager for Bornholm's Energy Island.
Energinet continues to work on technical analysis and development to ensure that the selected solutions do not jeopardize stability, security of supply, or the project schedule.
Bornholm Energy Island and the power grid on Bornholm
Over the past six months, Energinet has completed an initial analysis of the technical possibilities and financial consequences of connecting Bornholm's power grid to Bornholm Energy Island's future electricity infrastructure.


Preliminary assessments from the analysis show that it will most likely be possible to link the Bornholm power grid to the Energy Island's electricity infrastructure with a 60 kV connection.


The cost estimates of the various technical options are still uncertain, but the most expensive solution is currently estimated to cost an additional DKK 230 million in construction costs.



This cost must be compared to cutting the current costs of using fossil reserves, i.e. keeping a power station ready to generate power in the event of faults or damage to the cable between Bornholm and Sweden. Over 40 years, the savings will amount to DKK 676 million, converted to present value.