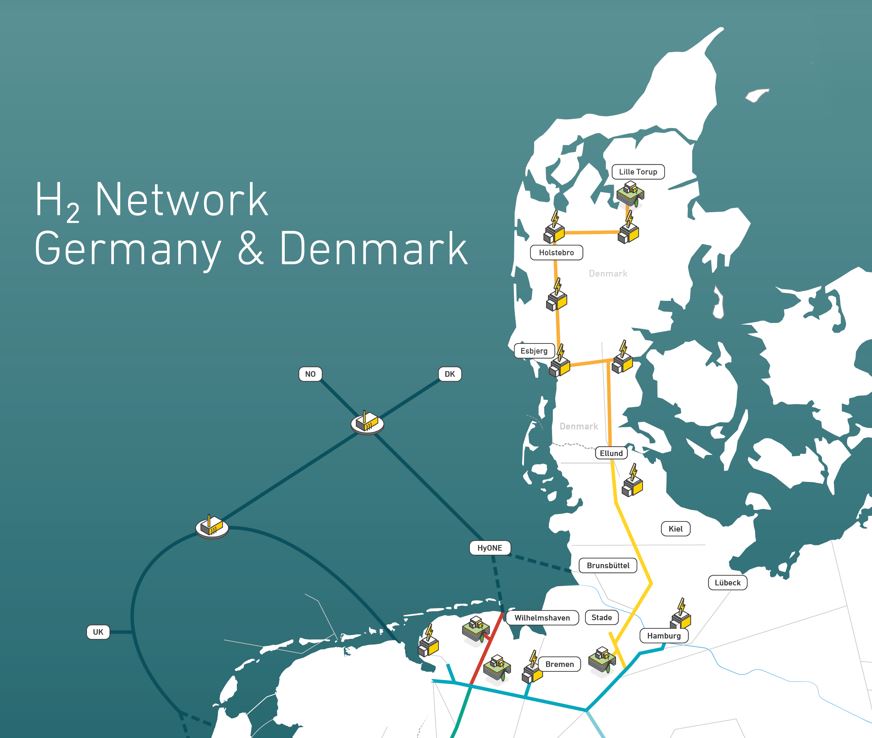 Energinet and Gasunie make progress on cross-border green hydrogen infrastructure
Published 12.5.2023 12.35
A new report from Energinet and Gasunie reveals the future of green hydrogen production and consumption in Denmark and Germany, emphasizing the role of cross-border infrastructure in supporting the European energy transition. The conclusions underline the compatibility of large-scale green hydrogen production in Denmark and the rising demand for green hydrogen in Germany.
Denmark is preparing to become a significant net exporter of green hydrogen with exports expected to increase from 15 TWh in 2030 to 79 TWh in 2050 based on national scenarios, or even up to around 100 TWh in some European scenarios.

"Denmark is set to become a green powerhouse, playing a vital role in the European energy transition. The timely development of cross-border hydrogen infrastructure between Denmark and Germany is essential to unlock the potential," says Michael Linnemann Pedersen, Director from Energinet.

On the other side, Germany is predicted to become a net importer of green hydrogen, with demand for low-carbon hydrogen surging from forecasted 93 TWh in 2030 to more than 500 TWh in 2050. To meet these needs, a large portion of green hydrogen will be imported via onshore pipeline connections.

"The network expansion between Denmark and Germany as part of our Hyperlink project creates a bridgehead for the import of hydrogen. By realizing a strong cross-border cooperation we are fulfilling the spirit of the Esbjerg declaration", says Hans Jonk, Managing Director of Gasunie Energy Development GmbH.

Energinet and Gasunie are collaborating to develop a cross-border pipeline connection by the end of 2028, in line with the joint declaration signed by the Danish and German governments on March 24th (Link).

However, the timely realization of this connection presents challenges and requires support from politicians in both countries and all stakeholders, including network users, local and national authorities, and communities.

A process for collecting binding commitments for the utilization of transport infrastructure from Denmark to Germany is planned to be launched before the end of 2023. Energinet and Gasunie will share more information with the market in due time.
The Market Assessment Report can be downloaded here.
See also:
Memorandum of Understanding between Gasunie Deutschland and Energinet.
Danish-German hydrogen network – Energinet and Gasunie intensify the dialogue with the market.