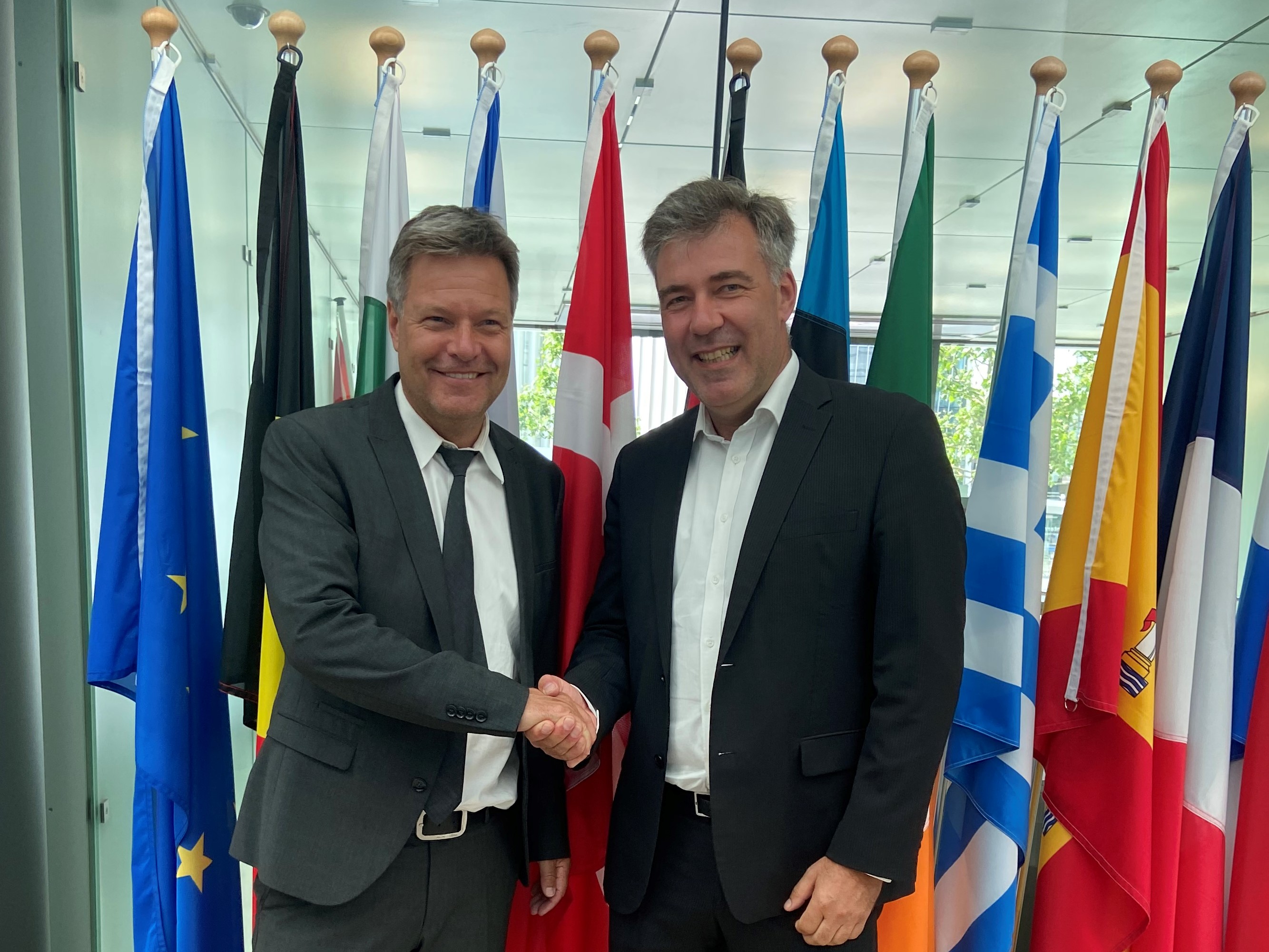 The German Minister for Economic Affairs and Climate Action, Robert Habeck, and Danish Minister for Climate, Energy and Utilities, Lars Aagaard.
Energinet and 50Hertz welcome governmental agreement relating to "Bornholm Energy Island": Basis laid for further international cooperation in the North and Baltic Seas
Published 20.6.2023 13.00
Transmission System Operators Energinet and 50Hertz welcome yesterday's public marking of the signing of an intergovernmental agreement relating to the German-Danish Bornholm Energy Island project. The German Minister for Economic Affairs and Climate Action, Robert Habeck, and Danish Minister for Climate, Energy and Utilities, Lars Aagaard, confirmed their signing of the agreement during the European energy ministers meeting in Luxembourg.
The intergovernmental agreement creates the conditions for Energinet and 50Hertz to join forces and allocate responsibility for different tasks related to the realisation of the innovative electricity hub that will be built on the island of Bornholm in the Baltic Sea, alongside the several hundreds of kilometers of 525 kV DC offshore and onshore cables. At least 3 GW of offshore wind power capacity will be made available to both countries' energy markets via Bornholm Energy Island in future. 
Stefan Kapferer, CEO of 50Hertz: "Bornholm Energy Island paves the way for a future in which offshore wind energy will no longer be accessed exclusively by individual countries via point-to-point connections. In the future, part of the offshore electricity produced flow to wherever the greatest demand is via offshore DC grids. The Bornholm Energy Island project will also be used for electricity to be traded between Germany and Denmark. This is economically viable and will increase both countries' security of supply under new geopolitical circumstances." 
Thomas Egebo, CEO of Energinet: "For Denmark and Energinet, the deployment of very large-scale offshore wind farms and interconnectors is also an important part of politically mandated ambitions and wider plans to export both green electrons and green molecules via a future hydrogen backbone in Denmark. That is supporting the decarbonisation of Germany's industrial sector. This joint project in the Baltic Sea and our projects in the North Sea will have an enormous impact on Europe's energy transition." 
With Bornholm Energy Island Energinet and 50Hertz are not only doing pioneering work from a technical point of view. Negotiations between the two companies and their respective governments have also clarified ownership rights and the allocation of target renewable energy quantities. Under the agreement, both grid operators will equally bear the infrastructure costs for the project and the two countries will also equally share the renewable energy target amounts. 50Hertz and Energinet will also split the congestion revenues linked to the power lines that will lead to Germany and Denmark equally. 
Denmark and Germany, and Energinet and 50Hertz, are front-runners in the field of offshore wind energy. In Denmark, the first offshore wind farm – Vindeby, located off the island of Lolland – was connected to the onshore grid more than 30 years ago. In Germany, 50Hertz connected the Baltic 1 wind farm in the Baltic Sea to its extra-high-voltage grid in 2011; this was the country's first commercial offshore wind farm. Furthermore, Energinet and 50Hertz together realised the world's first hybrid interconnector, the Kriegers Flak – Combined Grid Solution (KF – CGS) in 2020. As part of this AC/DC system, the grid connections of the German wind farms Baltic 1 and Baltic 2 and Kriegers Flak in Denmark are used as a 400 MW interconnector that links both countries together. This was made possible by the construction of a 25 kilometre-long connecting piece between two offshore platforms; an intelligent control system was developed for the interconnector's steering: the Master Controller for Interconnector Operation (MIO).