Updated vision: A hydrogen network throughout Europe already in 2040
Published 15.4.2021 15.11
Infrastructure owners from 21 European countries have agreed upon an updated vision for a dedicated hydrogen transport infrastructure across Europe. The European Hydrogen Backbone (EHB) initiative presents an updated vision, which aims to show the potential of large-scale transport of hydrogen across Europe.
A cross European hydrogen network of 40,000 km connecting 21 European countries
The vision follows the EHB report published in July 2020, which described a network of 23,000 km covering nine countries. Since, 12 more TSOs have joined the initiative and have worked together to further develop the European Hydrogen Backbone vision. The new vision grows to a total network span of 40,000 km, covering 21 countries, by 2040.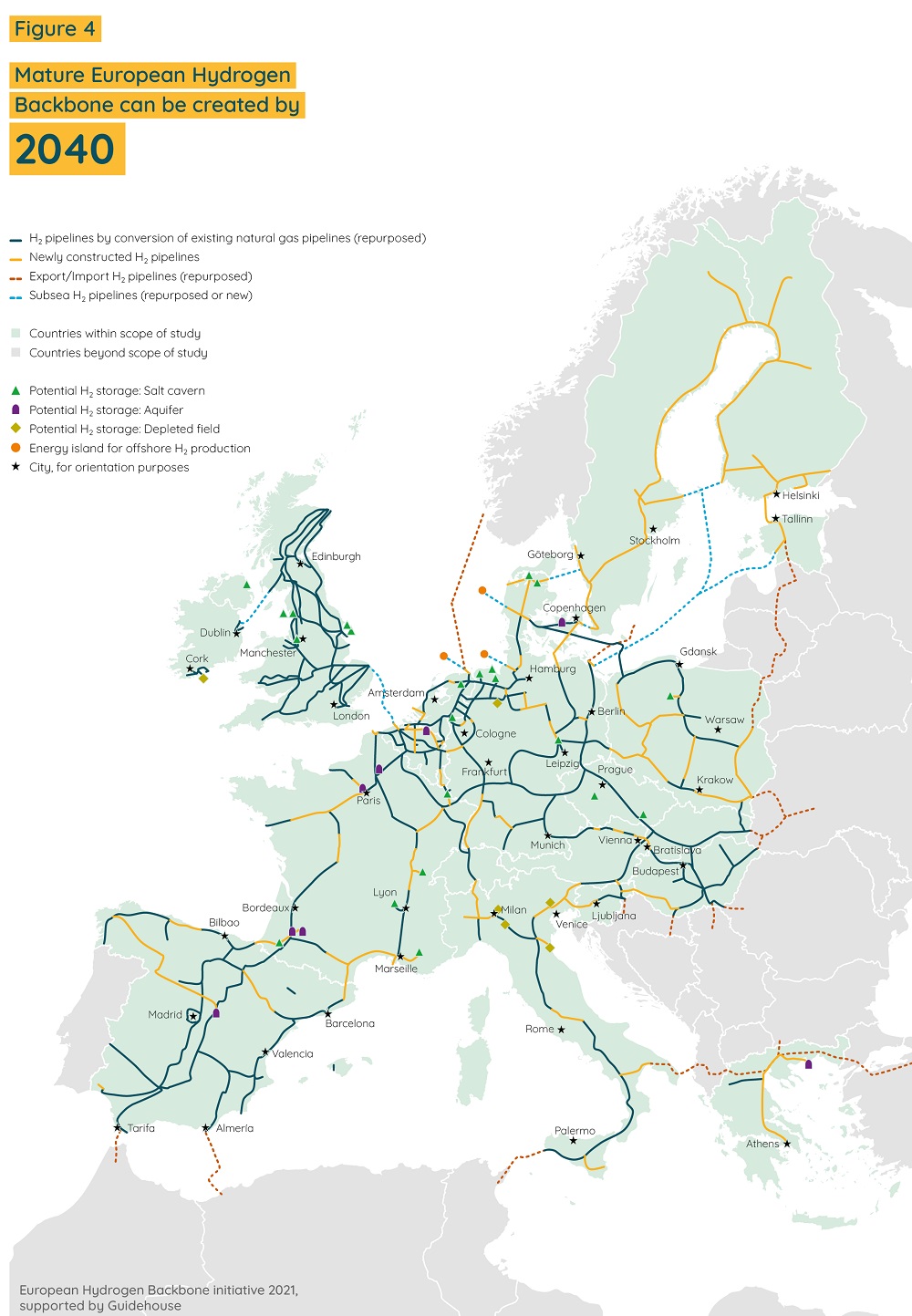 Around 70 % of the proposed hydrogen network consists of repurposed natural gas pipelines (blue). These are complemented by new pipelines (yellow) to connect new off takers and countries with small gas grids today, compared to their expected future hydrogen demand and supply. Total investment costs of the proposed 2040 Backbone of 40,000 km are expected to be €43-81 billion.
The vision is a source of inspiration and potential timeline
The European Hydrogen Backbone initiative shows the potential of large-scale transport of hydrogen across Europe, which can be a source of inspiration for initiatives on the supply and demand side to expand their view on potential customers and suppliers.
The hydrogen transportation routes and timelines in the EHB maps are so far only a vision showing how the hydrogen infrastructure could evolve.
"The final Backbone design and timeline will depend on specific market conditions for both hydrogen and natural gas. In Denmark the next step is to look more into where and when the needs for hydrogen infrastructure develops in close dialogue with the market and in relation to the overall socioeconomic planning and development of the energy system", says Stine Grenaa Jensen, Senior Director in Energinet Gas TSO.
The European Hydrogen Backbone partners consist of 23 gas infrastructure companies from 21 EU countries