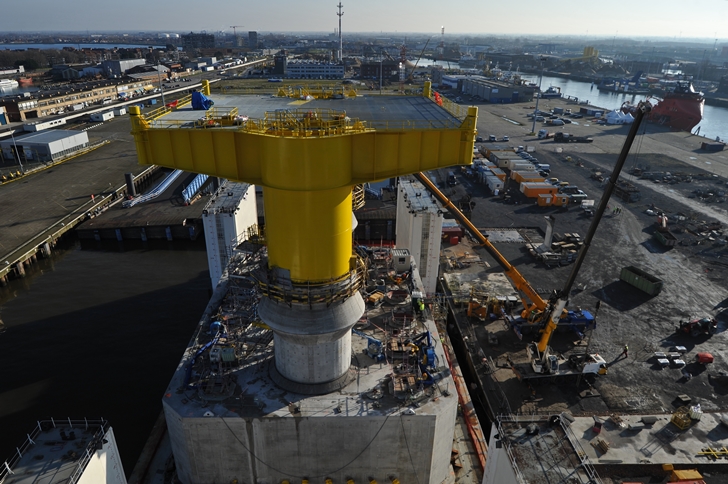 Foundation for the Kriegers Flak platform
Foundations for platforms are ready
Published 14.12.2017 12.28
In Oostende in Belgium the two foundations for the platforms at Kriegers Flak offshore wind farm have been assembled and are ready for shipping.
Two transformer platforms are being prepared for the future Kriegers Flak offshore wind farm. The largest of the platforms will also be the connection point for the German and Danish electricity grid in the new interconnection - Combined Grid Solution - between the two countries.

The platforms consist of two gravity based foundations and two topsides, which is the part above the water surface. The two topsides are produced in Rotterdam by Hollandia, while the foundations are being produced in Oostende in Belgium by Iemants and Jan de Nul.

In the port of Oostende the project has just reached another major milestone, as the foundations have been assembled and are almost ready for transport to the Baltic Sea. The assembling operation took place on 29 November 2017.


The foundations consist of bases of concrete and a transition piece made of steel. The transition piece of the largest of the platforms with two bases is being placed on the concrete part.
The operation is finished and both platform foundations have been assembled. The two foundations are weighing approximately 8.000 and 10.000 metric tons excl. ballast material.
The steelwork and the concrete base must fit like a glove. 
 
The concrete bases have been cast directly onto a semi submergible barge. From Oostende, the barge will sail north of Jutland, Denmark, to the Baltic Sea. The barge will wait near the site for the right weather conditions for placing the foundations on the seabed. At the location at Kriegers Flak the barge will submerge, and the entire barge will sink several meters. Then, the huge foundations will float and can be pulled off the barge and lowered onto the seabed by controlled filling with water.

Preparations for the sail away.