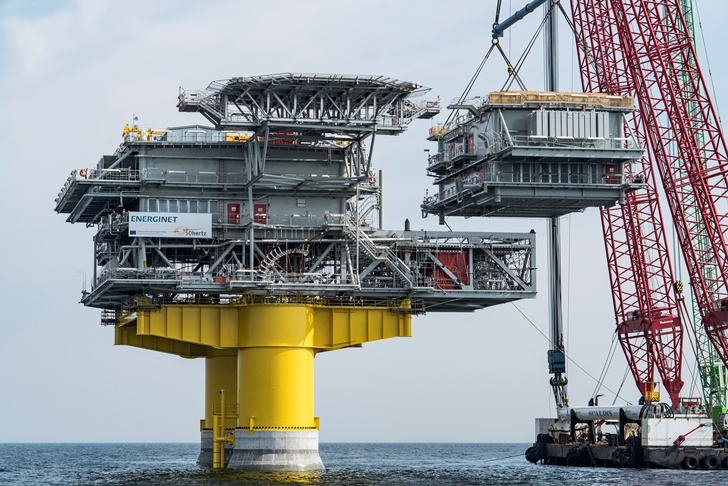 Platform installation in the baltic sea © Jakob Fynsk, Energinet
Offshore platforms for Kriegers Flak installed
Published 7.5.2018 15.37
Last week, in the middle of the Baltic Sea, the crane vessel Rambiz 3000 completed the installation of three offshore platforms of 700, 1500 and 1800 tonnes respectively. The platforms will be used to collect the generated power from the future offshore wind farm on Kriegers Flak and to exchange power between Denmark and Germany.
The Rambiz is able to lift up to 3,000 tons and has previously installed, among others, the Rødsand (B) platform for Energinet. Once again, everything worked smoothly when Kriegers Flak platforms were installed this week, the last one on Friday morning.

"Completing this installation, we have passed the most costly risk in the project. The loss of a platform from the crane would delay the project by more than a year and have enormous consequences. It is therefore a great relief to see all three platforms in their rightful place ", says Jens Chr. Hygebjerg, project manager, Energinet, the project partner of 50Hertz.
The platforms are expected to be energized on 1 October 2018. However, before the connection can be put into commercial operation, a lot of work still needs to be done both on shore and at sea. At sea, the platforms will be weld to the foundation during the coming months and get all systems aboard up and running. Many things have been tested at the yard but are being tested again, and some work can only be carried out offshore, e.g. connection of seawater pumps. At the end of June the pulling of six cable ends will begin to connect the platforms with each other and with the electricity grid in Germany and Denmark.

Two of the platforms (the KFB and the KFE) are placed on the same foundation, and the access to them will happen from a hotel platform connected to a gangway. The hotel rig accommodates 80 people, ensuring progress in the project, even if the weather is bad. On the second platform (KFA), helicopter decks will have a particularly important role, as technicians will fly in daily.