Thor Offshore Wind Farm
Site-investigations and grid connection.
Background for the Project
As part of the Energy Agreement of June 29th, 2018 all political parties in the Danish Parliament have agreed to establish 3 new offshore wind farms before 2030.
The Thor offshore wind farm is planned to have a capacity of minimum 800 MW and maxi-mum 1000 MW and to be in full operation no later than ultimo 2027.The offshore wind farm will be established in the North Sea, west of Nissum Fjord, min. 20 km from shore and will be named "Thor" after the name of the town "Thorsminde".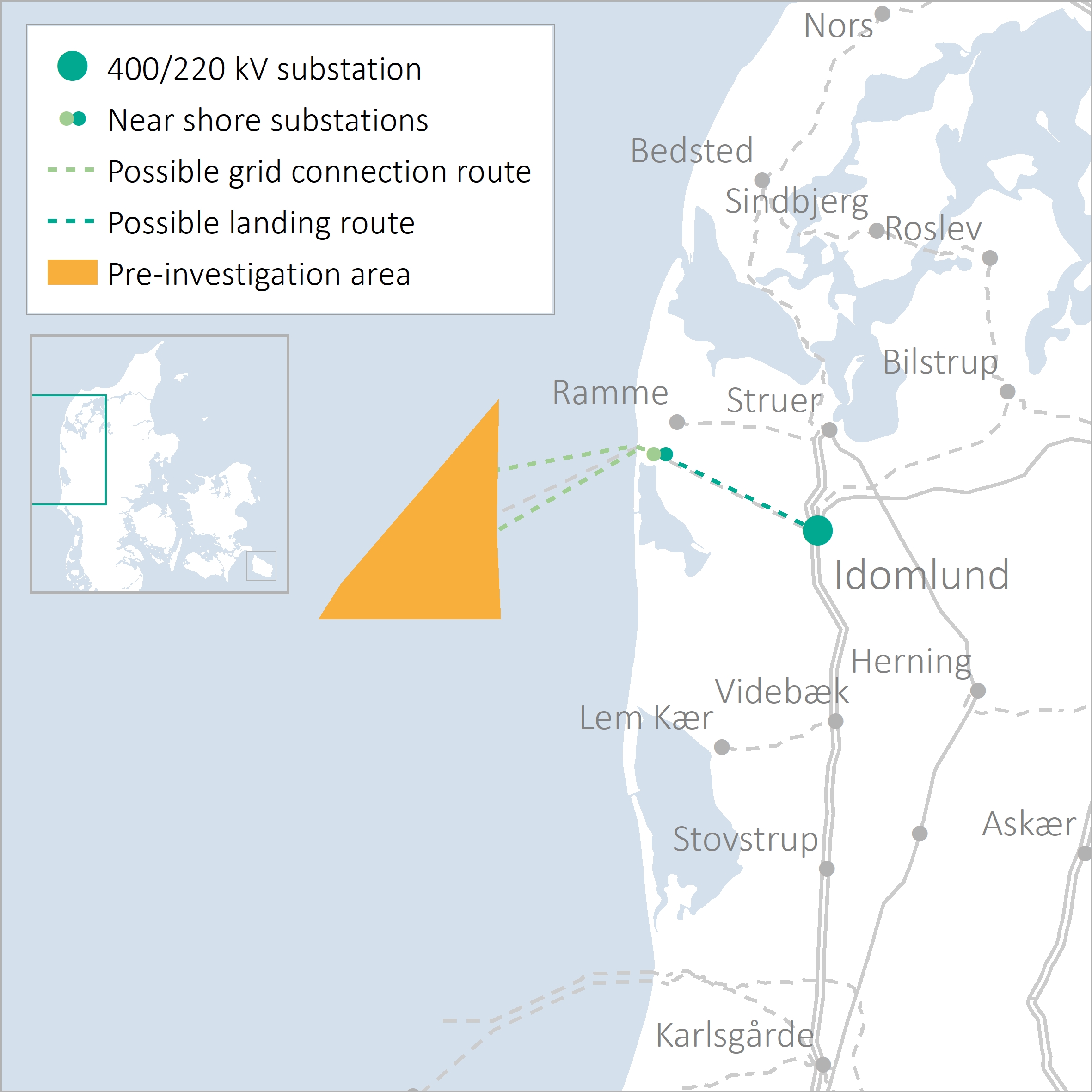 The gross area, which is located west of Thorsminde in the North Sea, and which is currently being pre-investigated, consists of a 440 km2 triangular area and additional areas around two potential export cable corridors leading to one landfall on the coast north of Nissum Fjord.
Site-investigations
Energinet is obliged to carry out site-investigations (geotechnical and geophysics) as well as MetOcean data collection for both the possible corridors in which the submarine cables can be placed as well as the 440 km2 project area appointed by the Danish Energy Agency (DEA).
Moreover, preliminary environmental assessments will be carried out, which are supple-mentary to the Strategic Environmental Assessment (SEA).
Access to results from the site-investigations
The results of the site-investigations as well as the reporting on the Strategic Environmental Assessment (SEA) will be made available according to the following table.
This table will be updated when new data is available.
| | | |
| --- | --- | --- |
| Topic | Available | Access |
| SEA report | Planned 1. April 2021 | |
| Environmental reports | Planned 1. April 2021 | |
| Site Condition Assessment | Planned 1. April 2021 | To be decided |
| Wind Resource Assessment | Planned 1. April 2021 | Only prequalified tenderers. Contact Danish Energy Agency for access |
| Lidar Measurements Report | Planned mid 2021 | To be decided |
| Lidar Measurement data | (one processed set of data per month) June 2020 | To be decided |
For further information please visit www.ens.dk/thor
Grid-connection
The concession winner of Thor tender will be responsible for constructing and operating the offshore windfarm, offshore substation, export cables, nearshore substation all the way to point of connection (POC).
Energinet will construct and operate the onshore grid connection from the second onshore substation to the overall transmission grid. The onshore grid connection will be connected to the transmission grid at Idomlund, which is east of Nissum Fjord.
Energinet is obliged to finalise construction of the onshore grid connection within a period of 30 months from when the winner has been appointed.

Responsibility of the concession owner includes all facilities up to and including the termination of the land cable from concession owner nearshore substation and to the POC provided by Energinet.
For further details, please consult the tender conditions, which will be published on the Danish Energy Agency website: www.ens.dk/thor