Biomethane guarantees of origin
The market for biomethane guarantees of origin (GOs) shows promise as a new source of revenue in the gas market. Sale of Danish biomethane GOs requires an account in Energinet's registry.
New account
Please attach your completed application form (Annex 1 under documents) to your email.
Send e-mail
Green biomethane guarantees of origin
A more detailed description of Energinet's biomethane guarantee of origin scheme is outlined in Energinet's Guidelines for guarantees of origin for renewable gas.
Danish guarantees of origin (GOs) for renewable gas are issued for upgraded biogas granted feed-in subsidy
In general, biomethane GOs in Denmark are issued on the basis of the upgraded amounts of biogas granted feed-in support. The owner of the upgrading plant may apply the Danish Energy Agency for exception of the support.  
Energinet will the following month issue Gos specifying that the biogas plant supplying gas through the upgrading plant, exempt from support, has not received production support.On all GOs it is clearly indicated, if production support was received for the injected biomethane.
Fees and charges for use of the GO scheme
When Energinet issues guarantees of origin for biomethane injected into the gas system, the users of the scheme will be charged for administration of and activity in the system. Users of the scheme and system are owners of the upgrading plants injecting biomethane to the gas system and companies importing and exporting guarantees of origin.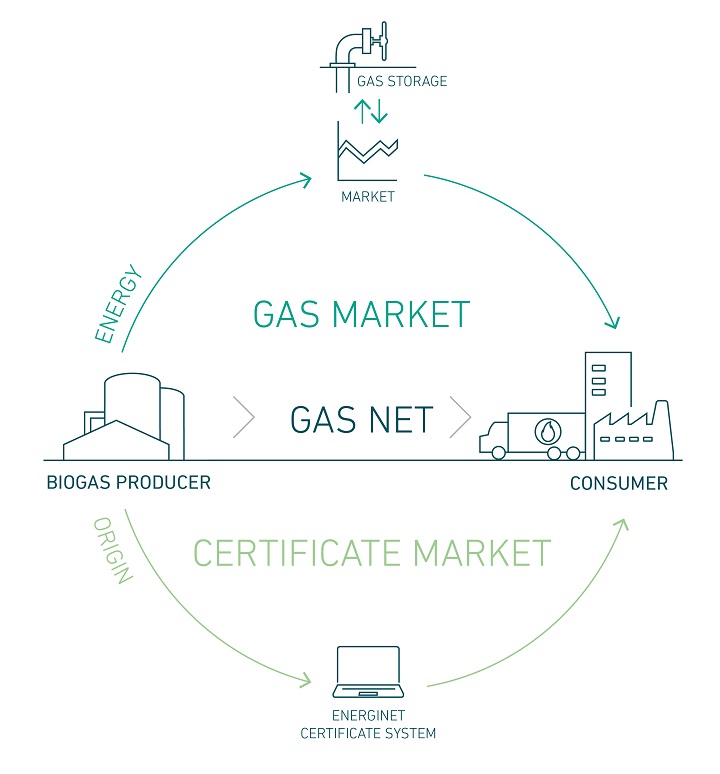 Cross border trade
Energinet work closely with our European counterparts to establish a trading platform for GOs.
Currently, GOs issued by Energinet are accepted by the EU Emissions Trading System as an offset for carbon reporting purposes.
Legal provisions and online self-service for account holders
The Executive Order on guarantees of origin for electricity, gas, district heating and cooling from renewable energy sources as of 30 June 2021 and regulates Guarantees of Origin for from renewable energy sources describes the rules that apply to biomethane GOs in Denmark.
Account holders administer their personal account through a self-service portal at G-Rex.
Contacts
Origin of the biomethane and European cooperation: